Illustrator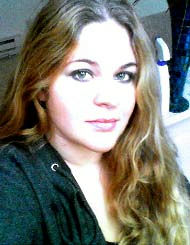 Catherine Van Riper:
My name is Catherine Van Riper, I was born in California and raised everywhere else. I currently live in the Florida Keys. It should be no surprise that between the wildlife and the vast seascapes it's not hard to find inspiration for my illustrations here. The rich cultural history of the Florida keys definitely gives me some wonderful ideas for my artwork.
My interests are mainly in the artistic fields. Between illustrating, my craft hobbies and my college major in graphic design, I have a broad range of interests and experiences.
In addition to artwork, my interests include a little cosplay, including Renaissance Festivals and Science Fiction conventions. I also have a passion for animals, which is wonderful considering where I live. I have two dogs, Scooter and Gunner, as well as a cat, Two. Their personalities have helped me bring the Black Beak characters to life through my pencil! Especially Gunner . . . he's nothing but character.
Well, I am learning a great deal about illustrating everday and I am excited to see the Black Beak Saga unfold!